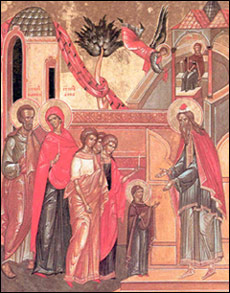 The feast of the entry of the Holy Theotokos into the temple represents a wondrous model of our entry into the Heavenly Kingdom. The church itself symbolizes the Kingdom of God on earth. In church we see the altar table, which is like a throne on which the Lord God sits, just as He does on His heavenly throne. In church, through the partaking of Holy Communion, we become united with the Lord Himself. In church, as in heaven, we are surrounded by hosts of angels and saints. In church, by means of the divine services we glorify God, as do the angels and the saints in heaven.
When the righteous Joachim and Anna brought the Holy Virgin to the temple, they offered to the Lord a gift that was supremely pure. So should we, in order to enter the Heavenly Realm, be absolutely pure, because the Lord Himself said that nothing unclean can enter the Kingdom of God. But we can cleanse ourselves of our sins and all manner of spiritual impurity only through the sacrament of penitence, through confession and communion.
As the righteous parents of the Holy Virgin prepared to take Her to the temple, they first dressed Her in royal garments, adorned Her, and provided Her with an escort of maidens carrying lighted candles. So should we, in order to enter the Heavenly Realm, first clothe our souls in the garment of obedience to the Lord's commandments, adorn our souls with virtues, and accompany them with the lighted candles of prayer and charity.
Upon arriving at the temple, the 3-year-old Infant Mary had to make an effort to ascend 15 high steps in order to enter the temple. So should we, in order to enter the Heavenly Realm, make the effort to ascend the ladder of virtues, to labor at fasting and prayer. The Holy Virgin went up the steps by Herself, without any help from others, but with the miraculous help of God. So should we, in our attempt to attain the Heavenly Realm, make the effort ourselves, but constantly asking God for help along the way.
Such is the lesson we receive from this wondrous holiday! By entering the temple, the Holy Mother of God clearly shows us the Way, and through the earthly temple lies the way into the heavenly temple, the Kingdom of God. Let us follow the Holy Theotokos into the temple, into the church. Now is the time of the Nativity fast, a time for preparing oneself to greet the Saviour on earth, a time for purifying oneself through fasting, prayer, and repentance, a time for increased church attendance. Let us not pass by this important period of time, for beginning with this holiday and throughout the entire Nativity fast we will hear in church the joyous tidings of our forthcoming salvation, we will hear the joyous appeal:
"Christ is born – glorify Him!"
http://www.holy-transfiguration.org/library_en/